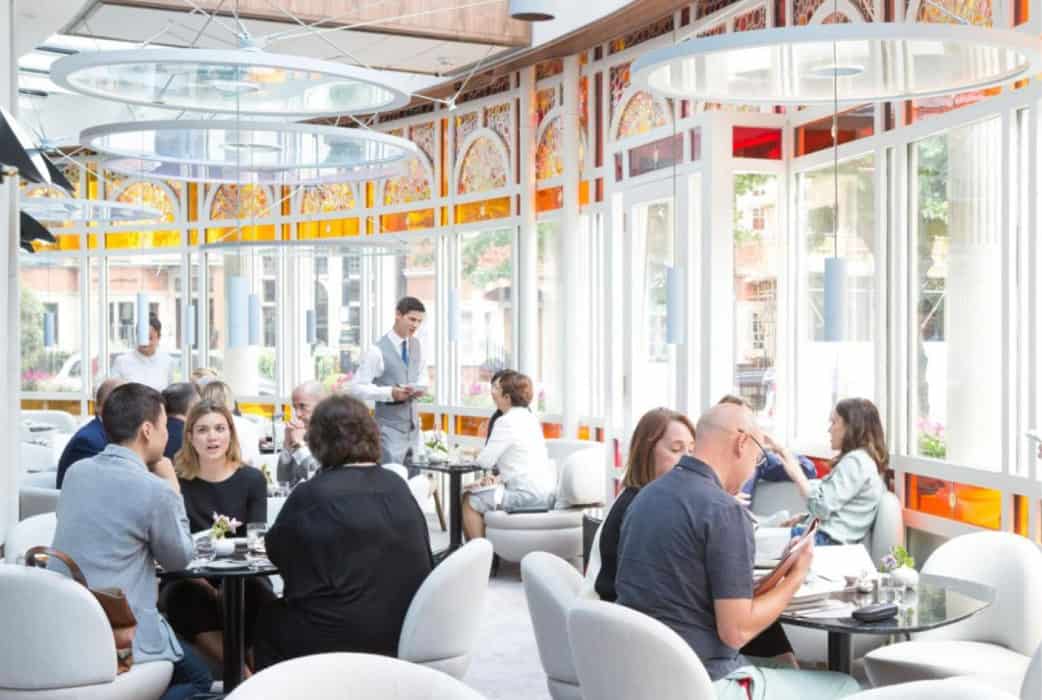 An example of a process and technological integration to provide structural support to the series of large lighting glazed elements up to 2m in diameter.
engineeria has committed up to a year to create from inception, design and assist the architect and the lighting manufacturer, the lighting installment solution for the well-known hotel and restaurant The Connaught, in Mayfair, London (the first London restaurant created for the world-renowned chef Jean-Georges Vongerichten).
The project brief was simple: provide structural support to a series of large lighting elements up to 2m in diameters.
Engineeria developed a spider web looking-like tensile structure to support 10 large disk elements within an elliptical shaped listed building. Working closely with the lighting manufacturer, the engineers make all the electrical components (cables, led rails and drivers) disappear within the structure.
"We brought the design down close to overall "instability" to ensure that the thinnest possible fixing and the solution could be used." says Omar Diallo, Director and Co-Founder of engineeria "Our visualizers team developed a 3D Revit model within the exhibiting space and its constrains to ensure that fixing conditions are set, located and understood (with regard materials and work with other parties such as English Heritage, owners and similar)."
That lighting units were analysed in details for the glass, its support, load transfer elements and fixing to existing structure to define element sizes, suspension solution and similar.
When the sizes were defined, a project engineer liaised with the lighting manufacturer and used Solid works to ensure all components were modelled and all electrical cabling and drivers were also modelled to make sure they fitted.
That model was sent back to engineeria so they used Revit to create the space frame structural web, and relink the file back to Robot to calculate the components capacities.
When the structural sizes were defined and accepted by the client, architect and interior designers, engineeria completed the calculations, for the local authorities' approval, by extracting the results digitally and preparing a structural compilation report we emailed the documents in an electronic format.
The lighting manufacturer took on our Revit model and used it as a basis to form their set of fabrication shops drawings and all went to production and then installation on site.
"All the steps from inspection, review, client comments and fabrication were done digitally" continues Diallo, "It is thanks to the use of 5 softwares, with a "federated model" approach to ensure all the consultants and advisor and other subcontractors know what is happening graphically and avoid any surprises when delivered on site".
The stunning Connaught's lightning is now visible to everyone at the main dining room.